Some cruise and ferry lines that use PressReader every day
Make memories, not hassles
Luxury travelers expect novelty. They want new experiences, and new memories. And they want it all to be easy. While the industry launches new ships, new destinations and new technologies, PressReader is helping seafarers enjoy premium newspapers and popular magazines onboard in offline environments. It's an amenity unlike any other.
Get onboard with major newspapers like The Washington Post, The Guardian, and El Pais, as well as magazines like People, Bloomberg Businessweek, Vogue and Rolling Stone.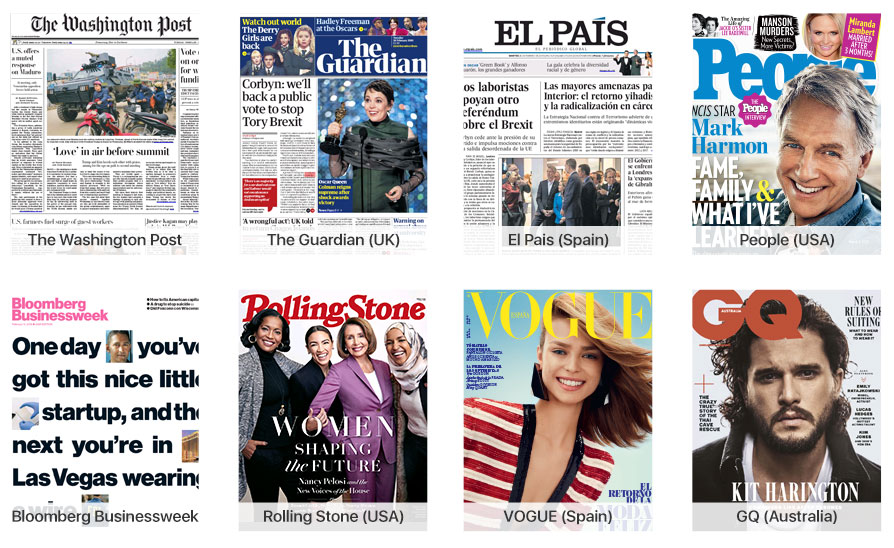 Daily news and magazines. No extra bandwidth.
We know offering WiFi at sea isn't simple or cheap. With PressReader's offline solution, you can download and save publications directly to each ship's server. Then, passengers can easily grab those publications to enjoy on their own personal devices.
You can schedule daily downloads during low bandwidth hours so passengers can enjoy the morning paper before it even hits the newsstand. You can also add and remove publications manually, and even upload your own content.
An interactive reading experience.
Cruise lines are working hard to improve guest-facing technology. With PressReader, passengers can enjoy a beautifully designed interface with an easy, mobile-first, reading experience that's perfect for every type of reader.
Major brands, like Viking Cruise Lines, have invested in tech and developed their own onboard app. Their passengers' mobile devices have become their hub for entertainment and other service offerings, like newspapers and magazines. Viking was one of the first major cruise lines to add PressReader to their own app experience.
Manage bandwidth. Enhance operations.
It can be tough to balance satisfying guest expectations and maintaining a healthy ROI on new technology investments. PressReader helps cruise lines run more efficiently by simplifying the delivery of newspapers and magazines at sea -- all without internet.
How PressReader is keeping cruise and ferry lines connected to their passengers

2020-04-14

Over the past several weeks, PressReader has helped to connect passengers, crew, and employees on board cruise lines and ferries. We've been busy making sure our current partners' passengers have PressReader access. And we've welcomed new partners, allowing more people around the world to enjoy quality newspapers and magazines.

Sandra Young
9 Things Cruises Do to Be More Sustainable

2019-05-02

Cruise lines have a perception problem. They're seen as environmentally destructive, and that just won't fly in 2019. Despite the bad rap, cruise lines continue to make important strides to improve their environmental policies – whether they're recognized by the public or not. It can be difficult to market your vessel when more and more […]

Your cruise or ferry needs digital newspapers and magazines. Here's why.

2019-03-21

Some cruise and ferry lines think offering their guests newspapers and magazines is a perk of the past. We're here to clear the air and say: it's not. It's important today, and it'll be important tomorrow.
See more